This is an obligatory post.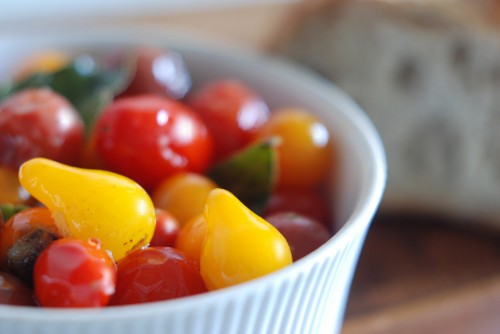 How could I possibly let an August in the Northeast go by without commenting on tomatoes? No, not beefsteak tomatoes. Are you crazy? I mean heirloom tomatoes. Vine-ripened heirloom tomatoes from a farm stand, or an urban greenmarket, or a friend's garden on Long Island. Or, wait, better yet, heirloom cherry tomatoes from a friend's rooftop garden in Brooklyn. Yes, that's it: vine-ripened-heirloom-hipster-miniature-multicolored-multishaped tomatoes.
Oh, I feel so with it!
And I feel so wistful.
As I sit here and figure out why the mixed feelings, I'm the first to admit I love heirloom tomatoes, for their flavor, for their whimsy, for how their ascent in popularity flouts the imperative of uniformity that defines industrial agriculture. I love that their riot of color, festooned only with olive oil, salt, pepper, and basil, is all the decoration a table needs. I love the fact that seeds for these funny-looking beauts are sometimes sold out, and love that it reveals how enthusiastically we want to feed ourselves, and with what. Minus the failed harvests and primitive dentistry, I too yearn for a Jeffersonian kind of world where everyone has space and time to grow food, and saving seeds doesn't invite a battle against a multinational in federal court.