The Allotment
September 8, 2014
I'm getting emails and calls from friends wondering where I disappeared to this summer.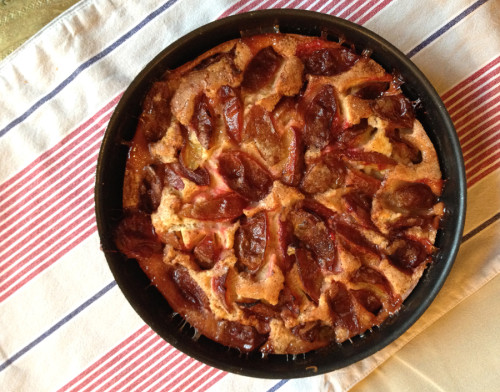 "I'm holed up in Ireland and the UK writing my novel," I told one, who tracked me down when I'd inadvertently left my phone on. Roaming charges, you know.
"And I'm writing mine on the Great Wall of China," she joked in return.
Only I'm not joking. Where I've spent the summer of 2014 is at desks, in rooms. Not quite a room of my own, but empty rooms nonetheless, loaned to me by generous friends who, in an unspoken barter, know that when my fingers are not tapping unedited gibberish on this laptop, they will be fiddling with ingredients in their kitchen.
So part two of the answer to the question, where have I disappeared to, is kitchens. And one in particular, in Cambridge, comes with a curious feature of English life, and European life in general: a piece of public land, parceled and leased by mandate for household farming, known as an allotment. In our why-wonder-when-you-can-just-Google world, if you want to know the history of allotments, Google it. Their pervasive presence in Europe bespeaks, to this Yankee at least, bits of the history we don't share with the Old World: feudalism, world wars in the back yard, a notion of private property that doesn't stimulate an appetite for guns, and a persistent conviction that the government, however inept, should look after the welfare of its people.
In fact, the idea that public land would be set aside so individual households can grow food for their own use was so foreign to me that when my host, a congenial Cambridge academic named Nick, told me the crisp roasted potatoes we were eating were from the allotment, I swallowed them with a dash of pity. Forget that we were seated in his very comfortable row house. It sounded like Nick and his wife were on food stamps. No, it sounded worse, like Nick spent his afternoons waiting on a potato version of a bread line. Was this really English life?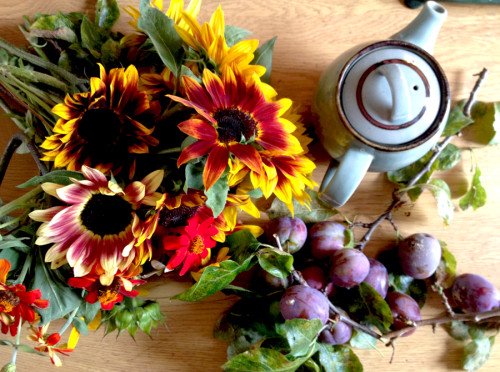 But then we had some very fresh green beans from the allotment, and zucchinis. Kale, lettuces, cucumbers so fresh you could crack them in half followed. We had enough currants one day we could have sold them and bought designer shoes. Nick's allotment, I corrected my reasoning, must be a co-op or CSA, and Nick must be a member. So gaping was the gulf in our individual presumptions of how produce gets into a kitchen that Nick never thought it necessary to explain he was actually growing all this food, and I never thought to ask.
I like gardening, especially when you get to just pick things. I helped Nick harvest a few times, when the blackberries and Italian plums had ripened. He hadn't planted any raspberries of his own, but that was hardly a deterrent. His allotment neighbors had plenty of plump ones, and as far as I could tell, not one of them owned a gun.
HERE'S WHAT YOU NEED TO MAKE THE PLUM TART MY SWISS BABYSITTER USED TO MAKE AT THE END OF EVERY SUMMER:
10 – 12 Italian plums, pitter and quartered
1 1/2 cups flour
1 1/2 teaspoons baking powder
1/4 teaspoon salt
5 tablespoons unsalted butter, soft, plus a tiny bit more for topping (optional)
1/2 cup plain white sugar, plus more for sprinkling
2 eggs
3/4 cup Greek yogurt
1 teaspoon vanilla extract
HERE'S WHAT TO DO:
Preheat your oven to 350°F/180°C. Butter an 9″ cake pan.
In a small bowl, sift the flour, baking powder, and salt. Set aside.
In a medium bowl, whisk or beat the butter and sugar until creamy. Whisk or beat in the eggs, then the yogurt and vanilla. Incorporate the flour mixture into the wet ingredients until just blended. The batter may be a little stiff. That's okay. Transfer to the cake pan and arrange the plums, skin side up, over the top of the batter. Sprinkle with additional sugar, about 2 tablespoons, depending how sweet your plums are, and how sweet your tooth. You can also dot the top with tiny cubes of butter before baking. Nana always did.
Bake 40 – 45 minutes.