NOMAD
May 9, 2014
I've been looking for you. Where have you been?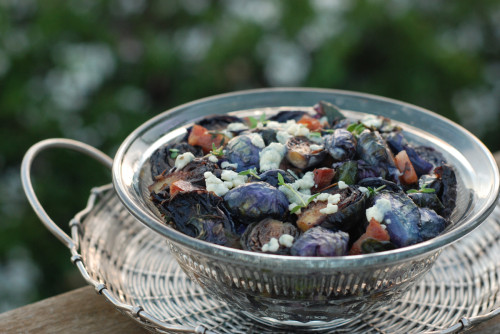 Seat 21A. I like the window.
Oh, so you mean you're in Limbo.
That's one way of putting it.
How's the food in Limbo?
You would ask.
Well?
The Reindeer Burguignon in Svalbard was a little tough, but tasty.
I thought you had sworn off reindeer.
You're thinking pork. I swore off pork in high school, remember?
Not really, but, I'm guessing you cheated when you saw Black Pudding for breakfast near Loch Ness?
Guilty as charged. And don't forget the Cotechino with Umbrian Lentils.
That was the one you had at the Vatican? With the pope, right?
No, by Cathy Whims at a pop up dinner in Greenwich Village. His Excellency was in the mood for flank steak, with chimichurri…. his mother's recipe.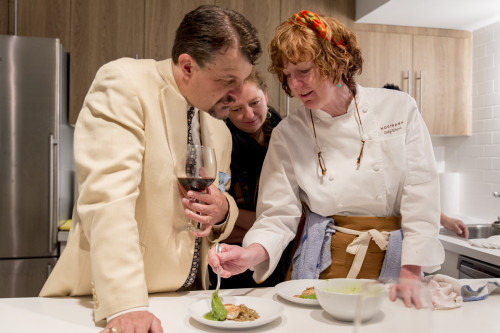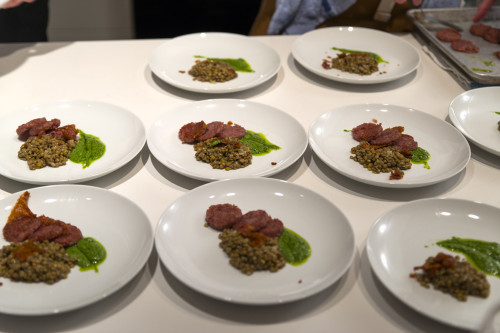 Does H. E. know you're not a believer?
Do you know I am a believer?
In­ what?
The presence of god in a salad of pomegranates, fresh figs, sheep's cheese, toasted pine nuts, and tender lettuce.
Aphrodite?
The very one.
And now you're going to tell me the two of you were on Mount Olympus.
In the vicinity. Then she resurfaced in late-December, in Fresno, as a voluptuous persimmon.
Love, she's such a shape-shifter.
With bacon and blue cheese, she's even in a purple Brussels Sprout.­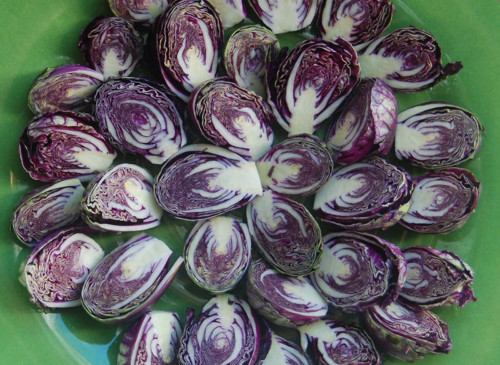 HERE'S WHAT YOU NEED (for 2 to 4 mortals):
4 ounces (120 g) slab bacon, cut into 1/2″ (1 cm) cubes
1 tablespoon olive oil
1 tablespoon butter
1 pound (450 g) purple Brussels sprouts, or green, halved lengthwise
10 sprigs fresh thyme
3/4 teaspoon salt, or more to taste
Freshly ground pepper
Crumbled Castello Blue cheese, or your favorite blue
HERE'S WHAT TO DO:
Choose a heavy-gauge skillet (I like to use my iron pan) that will be wide enough to accommodate all the Brussels sprouts face down. Heat the pan over medium heat and cook the bacon until it renders some fat and is browned, about 10 minutes. Remove the bacon from heat, reserving the rendered fat in the pan, and set the bacon aside in your serving bowl.
Add the olive oil and butter to the same pan, and place all the Brussels sprouts face down, beginning from the outside of the pan, where it will take longer for them to cook, and working your way into the center. Drop the sprigs of thyme on top and then for about 10 or 12 minutes resist the common urge to stir. Leave them alone as they brown. That's what the professional always tell me to do, although I do like to check that the browning is happening evenly, and I rearrange the sprouts toward the hotter part of the pan or away from it, as needed. The important thing is that they remain face down.
Once you have nicely browned the interior side of the sprouts, add the salt, pepper, and bacon, and cook the whole mix, stirring occasionally for even browning of the sprouts, about 10 more minutes.
Discard the thyme sprigs, season the sprouts to taste, and transfer to your serving bowl. Top with crumbled blue cheese, as much or as little as you like.