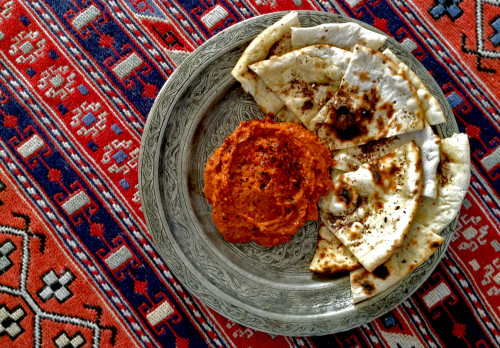 I have to warn you that while this is more or less a conventional food blog, I'm going to be talking to you about placentaphogy before I give you my rendition of Muhammara, the Turkish red pepper and walnut dip my son and I ate in Istanbul last month. Muhammara blows humus back to the Middle Ages. But don't worry. Muhammara is vegan, and if it means you'll keep reading, I'll reveal, right here from the outset, that I never went through with my faint-hearted plan to consume my children's afterbirths.
Though would you believe during my first pregnancy, I was one of those expectant women weighing its merits, considering either braising the endocrine organ with fortified wine, or desiccating and pulverizing it into a shelf-stable supplement powder. Either method would have provided me with no-second-chances custom nutrients, or so the alternative San Francisco maternity journal that printed the article I read claimed.
The more compelling in-favor argument that struck this home-birthing mother-to-be, bandied about along with other theories of what constituted natural at the Thursday evening Noe Valley birthing class my Balinese husband and I, the only heterosexual married couple in the class, attended was this: humans are just about the only land mammals who don't eat their placentas.
"Exactly, Karen," my otherwise open-minded but thoroughly grossed out mother rebutted over the phone when I solicited her opinion. "Humans are the only land mammals who do not eat their placentas."
As it turned out I was let off this afterbirth hook by the gods almighty because Read more…