Hello from the Dark Side of the Earth
June 30, 2012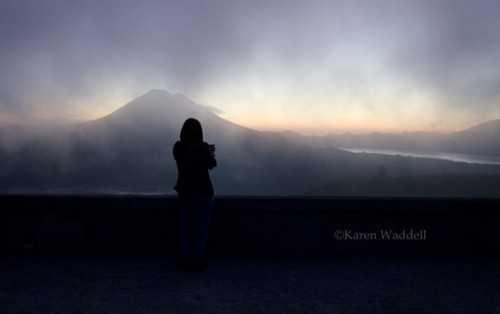 This may be hard to swallow, but there's a bite in the air in Bali these days, even at sea level (where I am writing now), but especially if you dine at sunset on a pavilion floating off the shore of volcanic Lake Batur, the sun plummeting behind the crater at tropical-disappearing-act pace, rescinding its ambient warmth and leaving you to huddle under your hoodie and wonder when on earth your waiter will get back with your grilled tilapia and hot rice.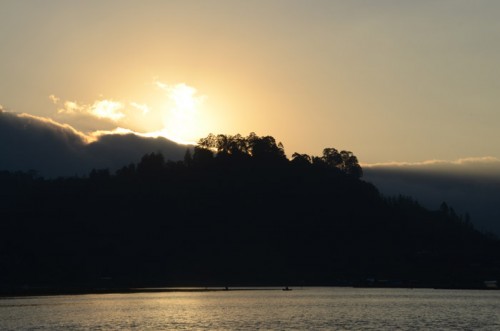 For the sake of the dramatic impact of my narrative I'm not going to reveal the actual temperature of our highland photo-workshop adventure. It's a misleading metric that will invite oh come on, you've got to be kidding me eye-rolling among my rugged readers (of which I'm sure I have many), and it detracts from the very startling fact that early early in the morning of our weekend mountain expedition, and then later that evening as we made for land from the dinner raft, we were producing bona fide, winter-worthy, visible vapors with each exhale.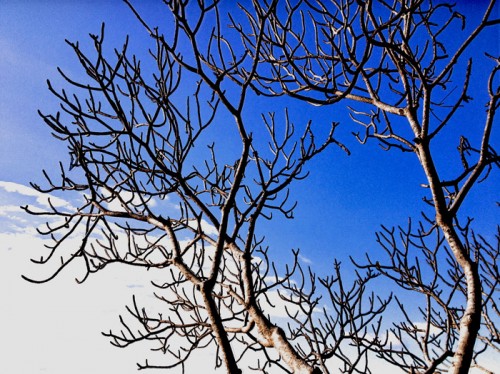 Other headlines from our ongoing Antarctic Plight? Our dogs, who, in warmer months and of their own accord, frolic and soak in the swimming pool for about a quarter of their waking hours, haven't put a paw in that pool for weeks. Our frangipani has jettisoned its leaves. The treacle-sweet mangoes and mangosteens that deliver dizzying sugars in November lie bland and dormant, sleepily contemplating bud form, while mountain mulberries take their place at our table. And if this isn't vindication of my shivers, I saw Swiss tourists sporting fleece, and don't mind admitting that I nearly ditched my principles by caving into the sweet, warm smoke of their clove cigarettes.
Marking the change of seasons is subtle science eight degrees below the equator, particularly for this forty-one-degree northerner whose knack for noticing seasonal nuance is a preoccupation met more often with blank stares than concurring smiles. Maybe this isn't your idea of a good party icebreaker, but I see nothing wrong with "Can't you just hear winter approaching in those rattling fronds?" followed by an oral primer on discerning the difference between the sodden shrieks of wet palms in a monsoon and the slaps produced solely by these dry south-easterlies. (If my blasé audience hasn't fled to the bar, next I really get 'em thinking when I posit that this fluttering frond business inspired several finger movements of Balinese dance.)
And then there's the morning sun, too feeble from its march northward to flood our rooms with the curry and lemon light of December. Parsimonious shadows—white, angular, finite, and a little lonely—slip through the north-facing louvers and slide down our walls in its place.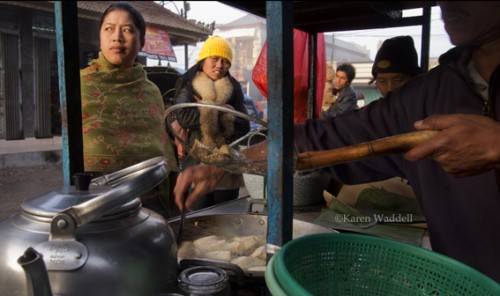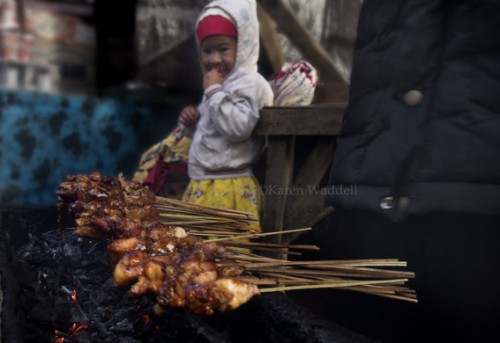 And then there's soup, which was what I was really thinking about as I wandered the Kintamani morning market in shorts, my camera at the ready. Crouching by a satay grill for warmth, I obeyed the stern directions of our workshop leader to "work my shots" as the daughter of the satay man, a girl bundled much more wisely than me, caught my eye. I knocked off a shot. And then more. I think I improved. Then it was time for soup.
HERE'S WHAT YOU NEED (for 6 soup lovers):
For the broth:
6 ounces (170g) shallots, peeled, coarsely chopped (about 1 cup)
1 bulb garlic, coarsely chopped (about 5 tablespoons)
1 tablespoon peeled, chopped fresh ginger
1 tablespoon peeled, chopped fresh turmeric, or 2 teaspoons ground turmeric
1/2 teaspoon ground coriander
1/4 teaspoon ground white pepper
1 tablespoon canola oil
2 1/4 pounds (1 kg) chicken, skin removed, bones left in
3 1/2 quarts (3 lt) water
1 large leek, split lengthwise, cleaned, cut into 1/2-inch slices
6 fresh kaffir leaves
1 stalk lemongrass, pounded and tied into a knot
1 tablespoon salt, or more to taste
For the serving bowls:
4 ounces dry rice vermicelli, or more if you like lots of noodles
6 hardboiled eggs, cut in quarters
2 medium white potatoes (about 12 ounces/350 g), peeled, boiled, cut into 3/4-inch wedges
Chopped celery leaf, for garnish
Fried shallots, for garnish
Lime wedges, for garnish
Hot chili sambal (can be store-bought)
HERE'S WHAT TO DO:
Place the shallots, garlic, ginger, turmeric, coriander, and white pepper into the container of a food processor, and process for about 1 minute into a very smooth paste, adding a little water if necessary to facilitate blending. Heat the oil in a 5-quart (5-lt), heavy-gauge pot. Add the spice paste and cook and stir over medium heat until the paste is a bit thickened and has a pleasing aroma, about 5 minutes.
Add the chicken, water, leek, kaffir leaves, and lemongrass. Raise heat and bring to a boil. Reduce heat to medium-low and simmer, uncovered, for 1 1/2 hours, skimming as required.
While the soup is simmering, prepare the ingredients for serving as outlined above. To soften the noodles, soak them in a medium bowl of boiling water for 1 minute, then drain. You will have about 3 cups of noodles.
Once the soup is finished cooking, remove from heat, and discard the kaffir leaves and lemongrass. Season with salt. Transfer the chicken to a large bowl and allow to cool enough so that it is comfortable to handle. Shred the chicken meat into bite-size strips and discard the bones. You should end up with about 3 cups of shredded chicken.
Divide the chicken, vermicelli, eggs, and potato wedges among 6 soup bowls and ladle the broth into the bowls. Garnish with the celery leaf and fried shallots. Serve with wedges of fresh lime, and hot sambal.