The Weather Report
March 21, 2012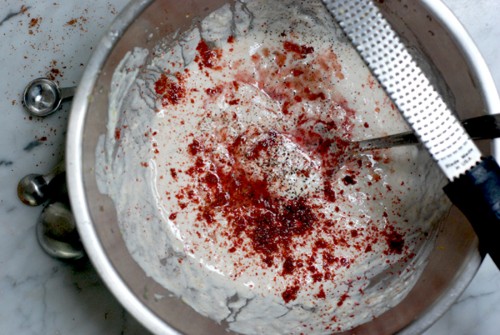 This was supposed to be a clever post about feeding Greek salad and grilled chicken in the rain to the crew of Soma Helmi's new short film, Malaika, and how my staff wore silly makeshift hats, and Soma, in her yellow rain jacket, reminded me of a pretty and harmless version of that creepy dwarf in that 1970s Donald Sutherland and Julie Christie horror classic, Don't Look Now.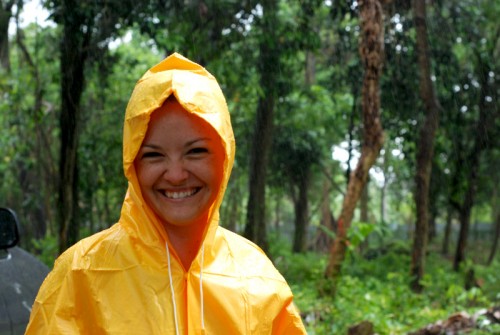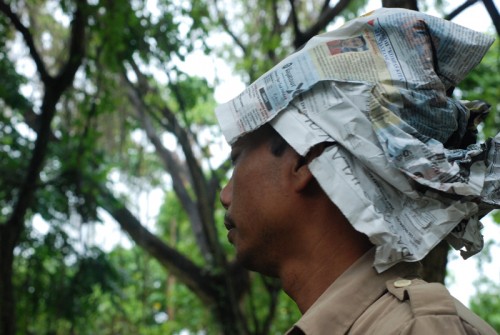 But that was two weeks ago, and as usual I procrastinated about posting. Then there were landslides. Then a tornado warning. The story was evolving, and when cyclone Lua broke loose on Saturday night, the weather story wasn't so funny any more.
If I'd had the nerve (a.k.a the stupidity) that night to venture out from the room where the wedding guests, the wedding planner, the photographer, and I were taking refuge from the sudden storm that tore for a relentless thirty minutes through the beachside reception I was catering, I'd have a video that would remind you of another scene in a movie: the one where Meryl Streep in The Devil Wears Prada berates her beleaguered assistant for not getting her on a flight out of Miami despite the hurricane we see blowing across the tarmac in the background. Yes, the wind and rain here were that intense.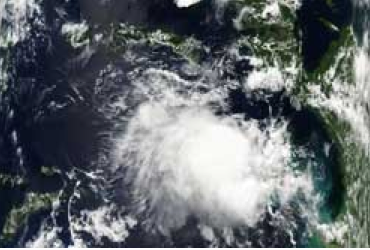 And no, not all our glassware survived, despite a brief attempt to gather it all and store it safely. Those lame efforts lasted about one minute; then it was like Zeus threw down his trident. Bye-bye to the soaring glass vases and candlelabra lining the ten-meter banquet table. Bye-bye to the six speakers positioned around the garden, and to the quaint Balinese parasols decorating the wedding arch by the beach. When we saw the luxuriously-sized pool umbrellas dislodge from their cement anchors, fling open like sails, and whip violently across the extremely broad expanse of lawn, nearly hitting two of us, we realized this was no joke and it was time to run for cover.
I didn't think Bali had storms like this, one guest from the wedding party commented. We were standing as far from the glass panes as the small room we were hunkering down in would allow, witnessing the dramatic lightning-silhouetted, battered coconut palms and churning seas. I replied, you're right, Bali doesn't. Or didn't. At eight degrees off the equator, we're supposed to be in the equatorial stills.
But I've been noticing that over the past six or seven years we're often caught in a steadily widening swath of Australia's late-summer cyclones. Stormy cumulus clouds no longer just build all day to a sweltering climax, and then burst into a mid-afternoon shower. Now they move in for days at a time. They blow off roofs, knock down trees, and smash towering billboards onto the roads. (This last bit, I need to mention, would literally be a windfall for Bali's scenery, if it did not involve risking lives.)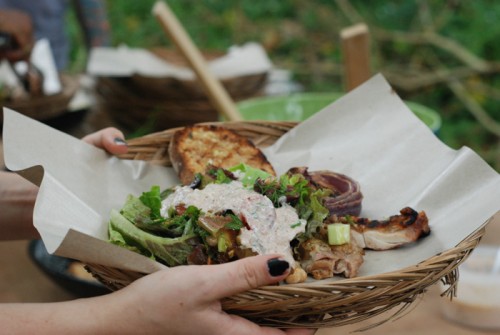 So how do I fit a breezy recipe into this post? How do I tell you that, despite today's meteorological warning about seventy-kilometer winds in Bali, despite climate change, despite an execution of five terrorists at a brothel down the street from my house in Sanur, despite a horrifying school shooting in Toulouse, despite impasse after impasse in my home country's government, and despite the fact that the financial collapse in the country that gave us souvlaki and spanakopitas, and inspired this salad, could spread to the rest of Europe, you should make a Greek salad anyway.
With all these problems, why would I want to learn how to make a salad, any salad?
Because you can still be blown away by the simple ritual of coming to the table with loved ones and partaking, together, in one of life's simplest blessings—a good meal.
HERE'S WHAT YOU NEED (for 4):
For the dressing:
1/2 cup (120 g) plain, whole-milk yogurt
3 tablespoons (45 g) finely grated peeled, seedless cucumber
1 small clove garlic, finely minced
1 teaspoon fresh lemon juice
1 teaspoon lemon zest
1 tablespoon olive oil
2 teaspoons finely chopped fresh parsley
1 teaspoon finely chopped fresh mint
1/2 teaspoon finely chopped fresh dill
1/2 teaspoon Zata'ar seasoning (available at Middle Eastern food stores)
1/2 teaspoon sugar
1/4 teaspoon cumin powder
Salt and freshly ground black pepper to taste
For the salad:
Make your own proportions of lettuce, cucumber, tomatoes, red onions, kalamata olives, chick peas, lightly chopped fresh parsley and mint.
HERE'S WHAT TO DO:
To make the dressing:
In a bowl, whisk together the yogurt, grated cucumber, garlic, and the lemon juice and zest til evenly blended. Drizzle in the olive oil while whisking, then add remaining ingredients. Season with salt and pepper.