Foraging Ferns
October 18, 2011
I'm told my posts make some readers laugh, but this is not so funny.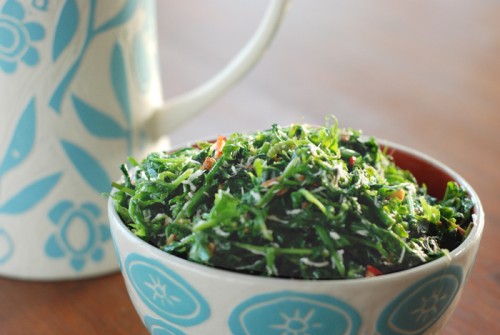 My friend, Rio Helmi, a gifted photographer who has documented close to the entire experience of Balinese life, once captured a picture of Balinese schoolboys forming a boisterous procession in Tegallalang, a village to the north of Ubud. It was 1985, my first year on this island, when Rio was my next door neighbor, and his image conveyed the exuberance of Balinese youth, ritual, and community that I was fortunate to witness then.
So you're probably thinking, this is not funny because the culture has ceded to commercialism and Western values, and the moment frozen in the photo is lost to history.
Not exactly.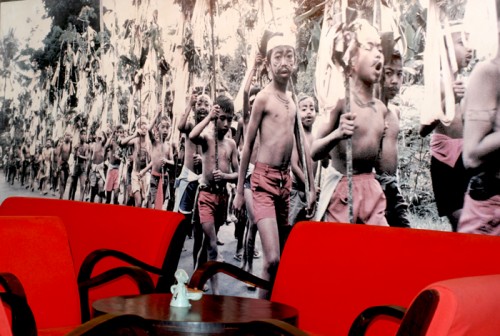 Last week, I was quite literally sitting next to a life-size enlargement of the photograph—my friend Ade Wawotuntu found it captivating enough to merit enlarging to life size, and plastering on the wall as backdrop for her restaurant, Cafe Batu Jimbar, in Sanur. While savoring my vegetarian nasi campur there, something new about the old photo struck me: Not one of the boys is overweight. To get a shot like that today, you either call in a casting consultant, or find a village even more remote than Tegallalang.
What happened? I'm no expert, but how about this for a start. . . the twin main intersections of Sanur are now dominated by three American fast-food franchises, and there's another franchise that peddles pizza right down the road. Don't like burgers, donuts, or melted mozzarella? Then how about the Singaporean franchise at the mall where you can load up on rich, refined breads and pastries? Or the Indonesian franchise confecting baked facsimiles a few doors down. . . you know, the spot just past the donut house? My very rough estimate of the number of overweight, urbanized Balinese kids, a ratio I can't help but calculate each time I pass the school near my house, is one in four. Full-blown obesity is not yet prevalent, but it's definitely on its way.
Except for Ubud, where the perils of prosperity are also worn on the waist, the epidemic recedes as you drive north, and by the time you arrive up in the little mountain town where we run our farm, you've time-traveled back to the skinnier days of 1985. But before you brand me a sentimentalist, I'll admit it. Life is not convenient up here. Just to make a meal, you have to farm, forage, and slaughter, get a wood fire going, and then inhale thick smoke while you cook up your procured bounty. No wonder everyone's thin. It's a pain in the ass to eat.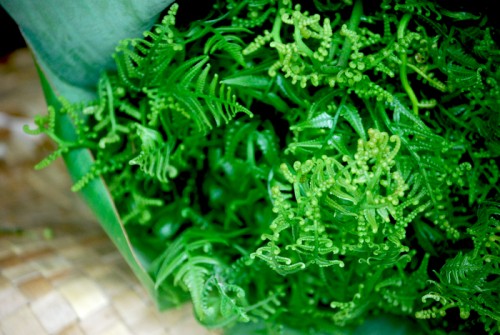 I will tell you this, though. At the end of the day, when we sit with our neighbors and talk about nothing in particular, it seems that everything we need is here. The spirits, the shrines, the company of our community, the animals, the plants, the forest, and the springs, and the stars and heavens that mysteriously envelop and guide it all.
HERE'S WHAT YOU NEED (for 6 servings):
10 ounces (280 g / 8-10 cups) fern tips
3 ounces (85 g) fresh coconut meat , with or without hard brown peel (not shell)
Marble-sized piece fresh kencur (lesser ginger), or pinch powdered kencur
1/2 cup (30 g) crisp-fried shallot, homemade or store bought, plus additional for garnish
2 tablespoons (about 7 g) crisp-fried garlic, homemade or store bought
Hot chili, sliced and sauteed in a little oil until soft, to taste
Salt, to taste
HERE'S WHAT TO DO:
Blanch the fern tips in boiling, salted water for 3 minutes. Remove from water, drain, spread out on a tray, and allow to cool.
Place the coconut over an open flame (you can use your stove top), and heat on all sides until the aroma is roasted. Scrape any char off the coconut, and finely grate. (Check out my Lawar video on YouTube, karenwaddellcooks, to see how this is done. If you want to skip this and just grate raw coconut, that's fine too.
Finely grate the kencur, or pound until smooth in a mortar and pestle.
In a bowl, mix the coconut, kencur, shallots, garlic, chilies and salt together, working the mixture in the palm of your hands to lightly crush the shallots and garlic, and infuse the coconut with flavor. Add the cooked fern tips and mix until even. Season with more chilies and salt to taste. Garnish with fried shallots and serve.