Egg Whites, Sugar, Chard
June 18, 2011
I've been asked to write more about vegetables, so here's my recipe for Swiss chard.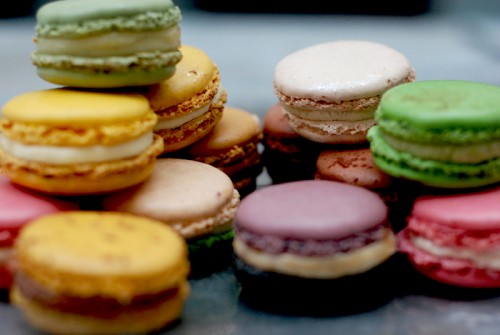 No that's not the wrong photo. Hold your horses, I'm getting there. See.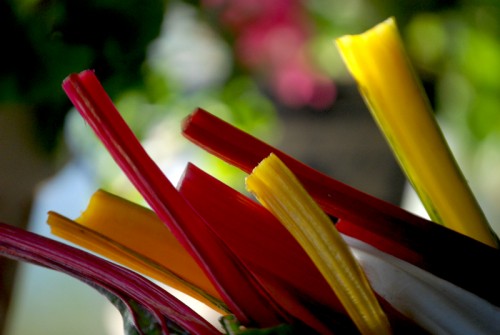 But first, a word about Parisian macarons, because I took that top photo on our last day in the City of Light on the window sill of our little apartment in the Marais, and the cookies are just too darn pretty not to blog about, even if I can offer neither the recipe nor insights into the method. Listen, mes amis, it's highly unlikely that—no, it's simply never going to happen that—me, the baker-of scones-that-thud-like-hockey-pucks, is in this lifetime going to even approximate a macaron as imaginative, delicate, and evocative as those from Pierre Hermé on Rue Bonaparte. But since when would this dampen my enthusiasm?
Gusky, our son, Giri, and I had it confirmed by my most trusted sources that Pierre Hermé was indeed the high altar of macarons, worth abandoning Sacre Coeur before we felt replete with its sacred beauty because the cookie seller closes at seven, worth the crowded rush-hour Metro ride across Paris, worth the further ballooning of my nascent muffin top, worth additional stress on my already beleaguered pancreas, worth ditching my qualms about food coloring, worth the vague humiliation of surrendering my free will to consensus as we formed a line outside the door, and yes, worth the hedonistic sticker shock. And I'm not kidding about sticker shock. It was like, hmmm, should I feed a child in Africa for a few months, or purchase two-dozen macaroons?
Duh. And throw in one of those six-euro mini fraise-de-bois pistachio sponge cakes while you're at it.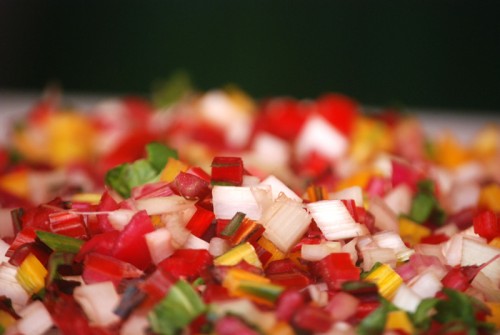 Which brings me to Swiss chard, because eighteen hours later, aboard the confines of our flight from Paris to Bangkok, one forlorn lemon meringue remaining in the box (selected, after considerable debate, as the Final Flavor), my bloodstream was racing like a friggin' greyhound and all I could think about was where on the big Boeing I could dig up some vegetables and SALT.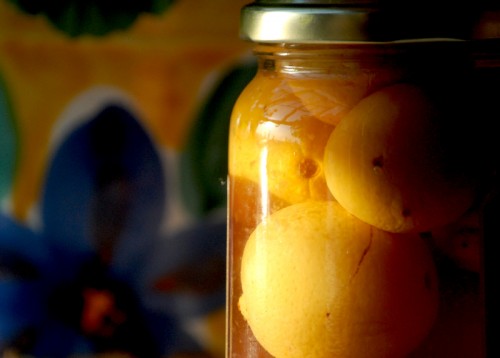 The leftover Tomme de Savoie with mâche on baguette that I had thrown together before we left for the airport helped a little, as did the Phat Ki Mao at Big Sister Mole Noodle Shop (read my prior post) during our overnight in Bangkok. But the best comedown from our high on egg whites, sugar, and world travel turned out to be a plate of humble greens: earthen, mineral-y, unprocessed, and redolent of the volcanic land in which they'd grown, and to which, we realized, we weren't really so bummed after all to have returned.
HERE'S WHAT YOU NEED (for 2 to 4 servings):
1 1/2 tablespoons extra virgin olive oil
4 large cloves garlic, lightly smashed
2 bunches organic rainbow chard, about 650 g/1.5 pounds
2 teaspoons finely chopped preserved lemon pulp (skins discarded)
1 1/2 tablespoons fresh lemon juice, or to taste
1/2 teaspoon coarse salt
Freshly ground pepper
HERE'S WHAT TO DO:
Put the olive oil into an unheated wok, add the garlic, and allow it to infuse the oil while you prepare the chard.
Soak the chard in a sinkful of water to remove residual soil and grit, then shake dry. Cut the stems from the leaves (including the portion that divides the leaves themselves) and slice the stems lengthwise into 5 mm/1/4-inch wide strips. Chop these strips into 5 mm/1/4-inch pieces. Set aside. Chop the leaves coarsely and set aside separately.
Heat the oil and garlic over very low heat. You're aiming to infuse the oil, not cook the garlic, so I mean really low heat. When the garlic eventually begins to sizzle, raise the heat to medium low, toss in the chopped stems, and cook and stir for about 10 minutes until the stems begin to soften. Do not brown. Stir in the lemon pulp and about 2 tablespoons of water and continue cooking and stirring until the stems are very soft, about another 10 minutes. I like to think of this step as making a chard-stem confit. Stir in the lemon juice, salt, and a generous amount of pepper, cook briefly, and taste for seasoning. The "confit" should be quite salty and lemony, even overly so, as this is your only seasoning for the dish. Ideally you will not need to add additional seasoning after you've added the leaves.
Raise the heat to very high and stir in the leaves, cooking and stirring until they wilt, about 3 minutes. Adjust seasoning if necessary, remove from heat, and serve immediately.
This is delicious with baked or rotisserie chicken.