Big Sister Mole Noodle Shop
February 23, 2011
You should know that a minor miracle occurred on Bangkok's Maha Chai Road last Saturday night. The last time my godson Sam and I went for noodles at Big Sister Mole Face, (of course that's not the restaurant's actual moniker, but I swear that's what the Chinese name, Jay Fai, means), we endured an epic wait of one hour and forty-five minutes, made more interminable by the fact I had just gotten off a sixteen-hour flight from Los Angeles and was hungry, groggy, grumpy and not amused by the humidity. I came close to walking out several times, but Sam exhorted me to stick it out, and sure enough by the time I was scraping the last rivulets of Phat Ki Mao seasoning off my plate, it was like amnesia. I was sated, pleasant, and glad I lived in Asia.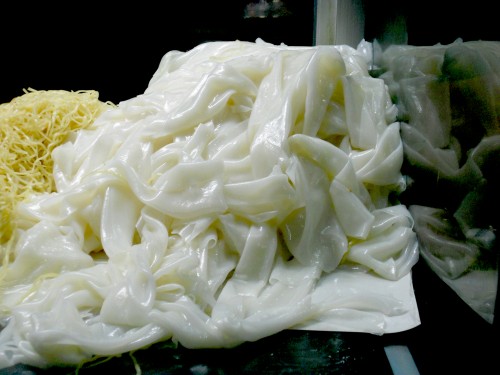 So on Saturday, when real father of Sam landed in Bangkok from Los Angeles via that time warp, Narita Airport, we thought twice about putting him through a similar ordeal. Until our own appetites prevailed, that is, and we decided the hell with Dad, his bleary-eyed butt is going to Jay Fai. We downplayed a worst-case Saturday-night scenario, explaining we could snack and drink Singha beer while we were waiting, and employed colorful language to describe the wickedest plate of Drunken Noodles this side of the Milky Way. Dad bought it, we hopped in a hot pink taxi, and headed toward Maha Chai Road.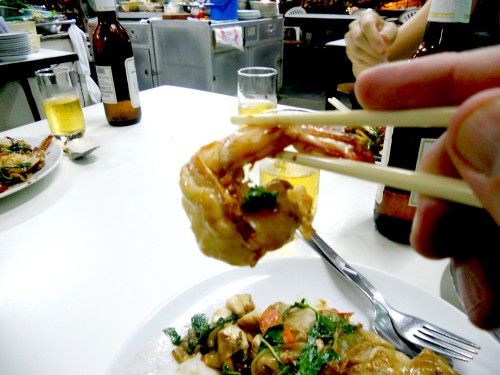 What didn't occur to us was that the Red Shirts might be going out too. Remember them? The demonstrators who paralyzed the capital for almost two months last year. Earlier in the day we'd seen a smattering of them from the Skytrain, near their former outpost, but they appeared genial, and in small numbers, and frankly we forgot about them as soon as the train glided into our station.
So how they got to Democracy Monument by late afternoon beats me. Maybe they split up, or worked in shifts. What mattered to our politically oblivious stomachs was that literally seconds before our taxi rolled up, they had dispersed. One short block from our destination the police were just dismantling the barricades, which meant Big Sister Mole Noodle Shop was—are you ready for this?—E M P T Y. You're either deaf or don't get it if you are still standing. Jay Fai on a Saturday night doesn't get empty. E V E R. Leer at stragglers as much as you want. Good luck with that bribe. You want food out of that wok, you wait.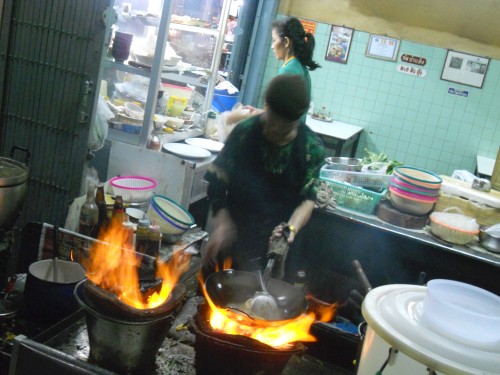 So what's all the fuss? You simply have not lived­­ until you've witnessed the heavily-make-upped, Wellingtons- and acrylic-knit cap-garbed Chinese grandmother with the big mole on her right cheek wielding two metal frying spatulas like the mean transformer robot in the climactic scene of Avatar, only she's beating up on rice noodles, not a blue paraplegic-proxy. I've eaten at Jay Fai at least twenty times, know a thing or two about Thai food, and scrutinize grandma each time I go, and I still can't discern her secrets. What I do know is how well those wide, silken noodles slide down with the white, rectangular crunchy things, and the whole ear of fresh baby corn, the oval mushrooms, the pungent basil, the lumps of mangrove crab, the tender squid rings, and the prawns so toothsome and enormous I sure hope radiation isn't involved in raising them.
The shell-less curried crab and her Tom Yam Tale soup aren't too shabby either, but don't just take my word for it. Book your ticket. Go. Now.
Jai Fai, 327 Mahachai Road, down the street from the fabulous white walls of Mahakan Fort. An after-dinner stroll toward the Democracy Monument will walk you right by them, and walk off some of the food. Open afternoon until very late. Closed Sundays. Tel: 0-2223-9384.