Sue Veade and the Smoked Paprikas
February 17, 2011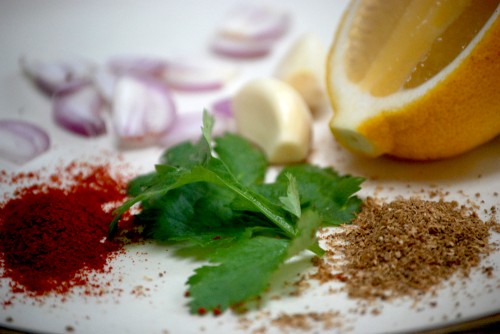 I was going to tell you about my search around Denpasar for a certain Indonesian sweet that seems to have been supplanted by mediocre croissants and donuts, and then I was going to give you the recipe so you could just make it yourselves. But instead I got overwhelmed by helping plan and sell tickets to this progressive-dinner school fundraiser we hold in Ubud every few years, and before I knew it it was Tuesday and it was looking like all one hundred and sixty tickets would sell out and that's when I had my holy shit moment and remembered I had signed on to feed these one hundred and sixty people their main, and hadn't put a stitch of thought into what I was going to put on their plates.
So thank God for that jar of Spanish smoked paprika I tucked into my suitcase my last trip over from New York. Forgot to pack one? Since you're online, stop reading now, email the next friend you know arriving to Bali, and tell them you've changed your mind, they can't stay with you, unless of course they agree to hand over a four-ounce jar of this brick-red powder. (You should see the spices and stuff I've amassed over the years, by the way, pulling this number on my incoming houseguests.)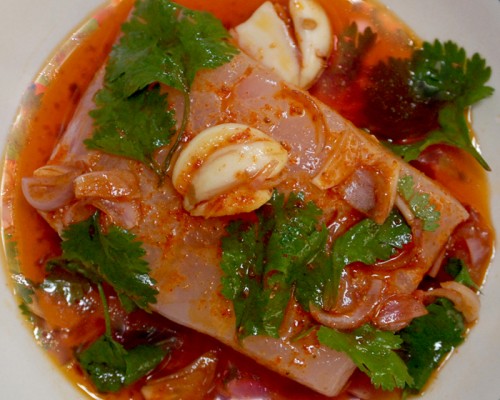 Oh, and while they're at it, ask them to grab you some authentic, double-zipper Ziplocks too, both quart and gallon size, so you can fudge the sous-vide fish dish the way I ended up doing for the benefit dinner by jury rigging some natural suction, a candy thermometer, and a big stainless pot of manually swirled 55-degree (celcius, folks) water. For the price of the real sous-vide equipment, which effortlessly controls the temperature and gently swirls vacuum-packed whatever-it-is-you-are-sous-vide-ing around for even heating, I could have cancelled the fundraiser and just donated the money we hoped to raise for the school. But then I'd be broke, and there'd be no story.
Why should you go to any of this trouble? Because don't you hate it when you have friends over for dinner and they're having a fine time away from the heat, getting sauced, while you're doing your solo act in the kitchen? Sue Veade, as I am coining her, is the patron saint of easy entertaining. She allows you to really gently cook a protein (or veggie) in advance, and then razzle dazzle your guests with flavor and tenderness that mystifyingly requires only a one-minute sear on each side. Been wondering lately why in good restaurants that grilled chicken breast is so flavorsome and succulent? They didn't invent a new breed of bird. They just called in Sue Veade.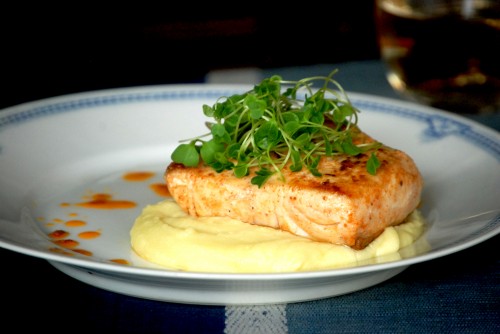 So pucker up your lips for suction and prepare for a very small fuss with a Ziplock.  I'll tell you about the Indonesian sweet green pancakes next time. Deal?
HERE'S HOW TO MARINATE THE FISH (marinade recipe adapted from Saveur magazine. This is for 4 portions.):
120 ml (1/2 cup) extra virgin olive oil
2 tablespoons fresh lemon or lime juice, or a combination of both
6 cloves garlic, lightly smashed
2 shallots, thinly sliced (about 2 tablespoons)
1 teaspoon coriander powder*
1 1/2 teaspoons smoked Spanish paprika powder
Cilantro sprigs (about 10)
1/2 teaspoon salt
4 170-g (6-ounce) boneless, skinless red snapper fillets, or other white fish fillets
Allow the marinade to rest for at least an hour. Prior to marinading your fish, stir the marinade and scoop out about 2 tablespoons of the paprika-ey oil and set aside in a separate bowl. You will splash this as a garnish once the fish is plated.
Place the fish and the remaining marinade in a covered shallow baking dish or Ziplock bag, then allow it to rest in the refrigerator for about an hour.
HERE'S HOW TO SOUS VIDE THE FISH WITHOUT THE FANCY MACHINES:
Using a candy thermometer, heat a deep, wide pot of water to exactly 55° C (130° F). I use a two-handled rondeau.
While your water is heating, remove the fish from the Chermoula marinade and clean any bits of garlic, shallot, or coriander sticking to the fish. (These flavors can be too strong if you sous vide the fish with them.) Gently place the fish and about a tablespoon of the marinade oil in a gallon-size, double-zipper Ziplock bag. Unless you want to spend the next 10 to 20 minutes keeping the parcel submerged, you now need to seal the bag with as little air as possible inside so it doesn't just float on top of the water. In real Sousvideland, you'd have a vacuum-pack machine to do this for you, but I'm assuming you don't, so suck out the air with your lungs. If anyone can tell me a better way to do this, please post a comment.
Place the Ziplock in the water bath for about 10 to 20 minutes, watching the temperature and turning the bag over from time to time so the fish heats evenly. If it goes above 55° C, add some ice or cold water to quickly bring the temperature back down. Going below is not such a big deal, and you can lift the temperature by raising your flame slightly, but going over defeats the whole purpose of sous vide because the flesh starts to toughen. What I have found, by the way, is that 55° C water is about the maximum temperature my hands can stand touching—very briefly—without sous vide-ing them too.
I say about 10 to 20 minutes because it depends on how thick your fillets are, and what temperature they are when they hit the water bath. What you are after is seeing the muscle segments of the fish barely beginning to flake. You will also notice the natural juices of the fish start to run, and the fillets are not as pliable. At this point, remove the Ziplock from the water and pat it dry.
Ready to eat? Then heat about a tablespoon of clarified butter in a heavy-gauge skillet, season the fillets with a tiny bit of salt, and sear them for about 1 minute on each side. If you want to eat later, or even tomorrow, store the Ziplock in the fridge until about an hour before you are ready to cook, so that the fish comes to room temperature before you cook it. This allows the fish to heat up quickly without the bummer of overcooking it.
The night of the fundraiser I served this over some Skordalia, a Greek puréed emulsion of potato, blanched almond meal, garlic, and a little vinegar for which you can find many recipes online. I would suggest one change, however: blanch the garlic cloves in just-boiling water for about 20 seconds before you purée them to mellow out their pungency. When you are ready to serve, top your fish with some microgreens or wild arugula, and splatter some of the reserved Chermoula oil (the bit you didn't marinate your fish in) around it. Dig in!
*Commercially packaged coriander powder bears little resemblance to what you get when you grind your own. To do this, heat a heavy-gauge (not Teflon) skillet over medium-low heat, toast whole coriander seeds until they are just fragrant, then remove from heat. When they have cooled, grind with a mortar and pestle or in an electric spice grinder.
And by the way, we raised 65 million rupiah for Sekolah Dyatmika and it looks like the kids will get their gamelan instruments sooner than later. Yeah!