Perignac
May 24, 2011
How's this for timing? Gusky's and my flights from opposite ends of the globe arrive in Paris half an hour apart, we catch a train two hours later, we arrive on time in Angouleme, our friends are waiting at the station, they whisk us off in a Mercedes to their quaint stone farmhouse in the hills near Perignac, the sun is shining and the air is warm, birds and crickets chirp felicitously, vast swaths of wheat sway in the breeze.
Sound pretty ideal? It is. And it gets better.
We alight from the car and there's a cherry tree right outside the house, and the fruit are almost ripe. Our hosts have been telling us the English are fretting about the strawberries in the UK—it's too hot, too early, and the strawberries are too early too, and tradition may topple, Harold if they can't serve local strawberries and cream next month at Wimbledon—but all this means to two visiting gluttons here in the southwest of France is that cherries in May are just in time for us. (And besides, if there is anyone fretting in France, it's about DSK from the IMF arrested on the tarmac at JFK.)
What I plan to fret about is whether these cherries will oblige me and hit their peak before we leave next Wednesday? And what a bummer it will be if we miss them by a day or two.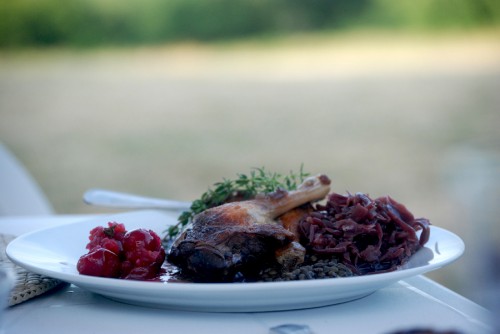 As for tonight, those duck legs (cheaper than chicken? Huh?), red cabbage, and de Puy lentils our hosts are braising must need cherries à la something, and anyone who invites me to stay with them knows I am forthcoming (overbearing? pushy? obnoxious?) when it comes to lending a hand in the kitchen.
We faced a Cherryless-Duck Emergency, but I persevered, and I came to the rescue. Here's how.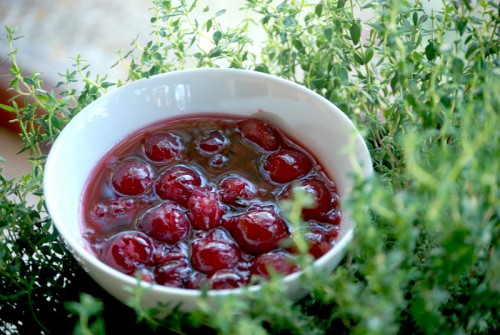 HERE'S WHAT YOU NEED:
6 tablespoons (90 ml) white Balsamic vinegar
1 tablespoon cane sugar
2 sprigs fresh thyme
1/8 teaspoon salt
1 1/2 cups (180 g) fresh whole cherries, not quite ripe if possible, pitted after weighing
2 tablespoons finely chopped rhubarb (optional)
HERE'S WHAT TO DO:
Not much. Heat the vinegar, sugar, thyme and salt in a small saucepan over medium heat until the mixture come to a simmer. Lower heat. Add the cherries and rhubarb, stir to coat with the sauce, and keep at a very low simmer just long enough to soften the rhubarb and cherries, and to mellow the acidity of the vinegar, about five minutes. Remove from heat and allow to cool, stirring occasionally. Serve when cool.