Holy Basil Mackerel
April 22, 2011
Here's when I knew I'd crossed the Asian Rubicon.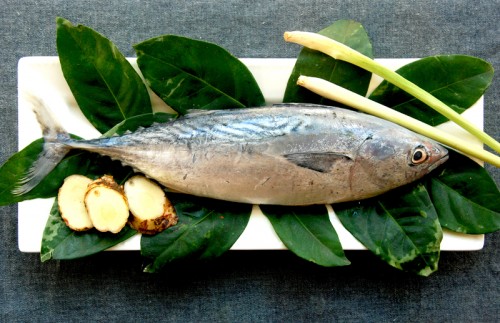 Faced with the breakfast choice of my mother's recipe for cinnamon-y French toast or crisp fried mackerel with sweet potato rice, I opted for the oily fish… at eight o'clock in the morning. This was about fourteen years ago, and if you don't think that spawned an identity crisis, imagine how many other trappings of my former self subsequently fell by the wayside thanks to that fateful meal. I was no longer the enchanted observer of Asia. I was officially subsumed.
I know, I know, subsumed by a mackerel? Of all fish to deliver an epiphany. Why not Arctic char? Or halibut? Why the one that reminds me of Morris the Cat and his tins of Nine Lives?
I imagine some of you think you detest mackerel, and you're not alone, believe me. No matter how savory I've made the description and how delicious the recipe, the very word mackerel on a menu pretty much dooms a dish (although it's a lot better than this doozie: Unripe Mango with Hot Chilies, Shrimp Paste and Boiled Cow's Nose, which, honest to God, appears on the translated menu at a local eatery on Jalan Sumatra in Denpasar, as if anyone who needs the English menu would ever order it).
But I digress.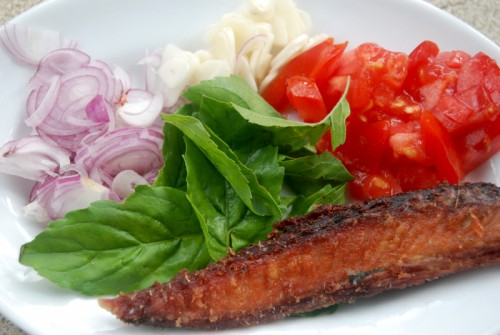 Fried oily fish, I discovered early in my marriage, is irresistible. When Gusky and I first lived in San Francisco, he so longed for his beloved pindang—boiled, salty mackerel—that it didn't take him long to discover an alternative: canned sardines. At the supermarket, it seemed like a good idea to me since sardines were cheap, and we were broke. But what we saved on our food bill we ended up squandering on frying oil and dish detergent, because once back in our kitchen Gusky would whip out the wok at about eleven in the morning and deep-fry the suckers until they could almost snap, splattering grease all over the stove and the wall behind it. I hated the clean up, I hated how the whole fish routine ate a chunk out of our day, I hated the pungent smell pervading our apartment and having to thrust open the windows to the foggy San Francisco air, but damn if those sardines didn't make for a good lunch.
And now, back in Bali, fried pindang is more often than I should admit the centerpiece of my breakfast. Me and probably 20 million Indonesians, so if that doesn't convince you of its merit, how about mackerel as a superfood rich in omega-3, cheap and, as fish in our beleaguered oceans go, pretty plentiful.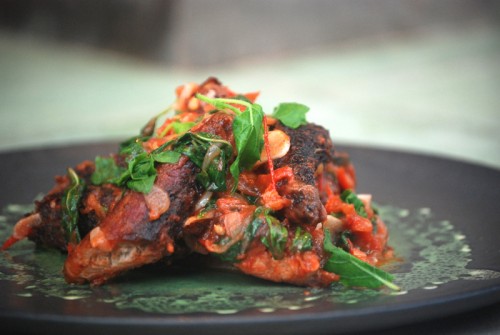 HERE'S WHAT YOU NEED:
To make the boiled pindang (enough fish for 2 of the finished dish recipes):
2 whole mackerel, about 500 grams (a little over 1 pound) each, gutted, heads and tails removed
6 fresh daun salam (Indian bay leaves), or dried
4 cloves peeled garlic
3 5-mm (1/4-inch) slices fresh galangal, lightly pounded
2 stalks lemongrass, bottom part lightly pounded
2 fresh kaffir leaves, bruised
1 liter (a little over 1 quart) water
5 tablespoons kosher salt

For the finished dish:
2 tablespoons grapeseed or other neutral oil, plus oil for deep frying
30 g (1 ounce) sliced shallots
3 cloves garlic, sliced
2 small tomatoes, about 170 g (6 ounces), chopped
1 hot chili, finely sliced, or more to taste
1 teaspoon sugar
1 teaspoon salt
2 tablespoons water
1 handful fresh holy basil leaves, or Thai basil, or lemon basil (kemangi)
HERE'S WHAT TO DO:
To make the pindang, place the fish in a 3-liter sauce pan with all the daun salam, garlic, galangal, lemongrass, kaffir leaf, and water. The fish should be submerged. Add the (yes, very large amount of) salt. Slowly bring to a simmer over medium-low heat and cook for about 40 minutes. Remove from heat, leave the fish in the broth and allow it to come to room temperature. Once the fish is cool enough to handle, use a sharp knife to remove the skin, gently running the blade from neck to tail. Once skin is removed, gently pull the fish into two pieces along the central bone, then separate those two pieces lengthwise into two, following the natural musculature, to produce 4 quarters. Discard the bones. Repeat with the other fish, and set that one aside for future use.
To make the finished dish, cut one of the quartered pindang into 4 cm (1 1/2 inch) pieces, gently crush the pieces with the side of your blade, and deep fry in a wok over medium heat until crisp, about 4 to 7 minutes, depending on the thickness of the flesh. Remove from heat and set aside to rest on a paper towel. (If you are feeding more people, you can use both fish and double the recipe for the finished dish.)
Wipe the wok clean with a paper towel and heat 2 tablespoons of oil over medium heat. Add the shallots and garlic and cook and stir continuously until they start to soften. Raise the heat to high and stir in the tomatoes, sugar, and salt and cook and stir quite vigorously until the tomatoes are a bit dry, about 2 minutes. Add the water and continue to cook and stir until the sauce is thick, about 1 minute, then toss in the basil and cook until it just wilts. Toss in the fried pindang until it is coated with the sauce and remove from heat.
Serve with rice, and enjoy with what I'm drinking with them now… a bottle of Sicilian Angheli.
On a personal note, Joe C this is for you. And thank you Wendy, from Kevala Ceramics, for lending me the pretty grey and green plate.