Ubud Wedding
December 9, 2010
Here's a tale of nice things happening to nice people. If you had been betting the odds, you would have wagered that Nick and Venessa's Galungan-day, rainy-season wedding in Ubud yesterday would be a fiasco. Bad hair thanks to the humidity, soaked shoes and sandals trudging through the waters running down Suweta Street, and thunder so loud you couldn't hear their vows.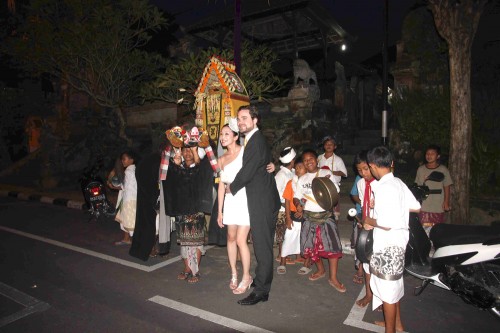 Those were my first thoughts when they emailed from Beijing last August and asked us to host their December wedding banquet at Terazo, which would follow a small ceremony in my friend Lloyd's guesthouse just up the street. That the affair was scheduled on a major Balinese holiday, mid-week (a Wednesday), a few weeks before Christmas—a tricky time for invited guests to get time off and jet to Bali for a wedding—didn't brighten their prospects for wedding bliss.
But the Galungan gods didn't see it that way. I did not mention in my post yesterday that Galungan is not just a day of the ancestors, it's a day that reveres the triumph of good over evil, and in the afterglow of the last night's love fest, I'm seriously wondering this morning if those gods didn't glimpse into the souls of this couple and see a reason to manifest, well, some goodness. A reward for being nice. Like Santa.
This celestial plan required a little manipulation, however, because we're deep in the wet season now, and Ubud sits about halfway between ancient volcanoes to the north and the beaches to the south, a hilly bump on a massive sloping plain that's striped with river gullies and verdant gorges. When the rains come down, they can't be diverted around Ubud just because it's paved. The north-south streets perpendicular to the town's main drag behave exactly the way their underlying nature intended: they're rivers.
So the gods sent the rains the day before the nuptials instead, wringing so much water from the clouds that Suweta Street, down which Venessa and Nick's processional was planned, was gushing six inches deep. And not just for an hour or two. The torrent went on all night. These gods weren't just after Galungan sunshine. They were cooking up a gentle breeze, and low humidity, and good hair.
And that's exactly what Nick and Venessa got for their wedding day, and more. It was serendipity that Suweta Street's famous penjor poles (they draw photographers to our street every Galungan) festooned the approach to Lloyd's house, forming a resplendent canopy for the entourage. After the exchange of vows, Lloyd and I watched the amber afternoon light dapple his garden like fairy dust while the guests embraced, and celebrated, and nibbled on canapés. Befitting a prince and princess, Nick and Vanessa climbed to the second-storey balcony to express thanks to their closest friends and family assembled below, more of whom had turned up in Bali than they could have wished for.
It grew dark quickly, as it does near the equator, and suddenly it was time to conclude the garden party and head for supper. The gods had one more treat in store, however. A troupe of Balinese children that happened to be making their Galungan rounds, bearing gongs and drums and garbed in mythical masks, obliged us by waiting for the merry group to emerge back onto the street, where they would usher Nick and Venessa to the wedding banquet, and to the new life that would follow it.
Disney couldn't have staged it better.