Making Lawar
December 8, 2010
It's Galungan today, Bali's equivalence-in-importance to Christmas in the West, and my husband Gusky's ancestors are paying a visit to our family temple, the one in the northeast corner of our property, nearest Mount Agung. I like knowing they are going to hang around for a few days, to check up on us, remind us where we came from, and grab some virtual grub while they're at it. In their honor, we're loading the temple shrine with offerings of flowers, fruits, fronds, fried chickens with sambal, rice cakes, steamed cupcakes, and salted eggs, and then we're going to burn some incense and send up sincere thanks for helping us make it through another Balinese year. I say thanks in English because I assume once you become a wise ancestor you can speak any language, even if your earthly tongue was Balinese.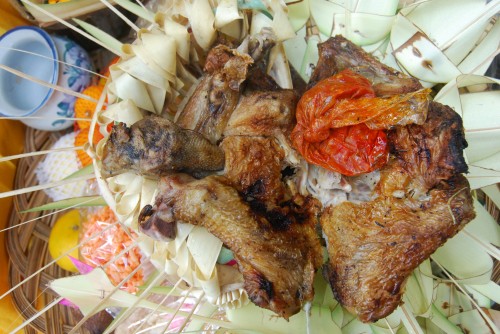 Not being very nimble-fingered when it comes to making delicate Balinese offerings, my way of contributing is to help cook the Galungan holiday meal at my mother-in-law's compound near Ubud. You always do the cooking the day before, on a day we call Penampahan, because you don't want to be hot and smelly on the actual holiday, when you get to put on a nice sarong for prayers, and prepare to receive guests.
So, as in every Balinese household, our day started with preparing lawar. It's a pre-holiday ritual that reminds me of making a big turkey dinner on Christmas Eve, only you eat the meat at nine in the morning. Actually, to be specific, you eat pork lawar in the morning, and then you eat an array of pork—pork stews, pork dumplings, frittered pork rinds—all day and the next. Lawar goes off really quickly, like potato salad at a picnic, so you have to eat it as soon as it's ready, and that's usually pretty early.
We actually had to make three lawars, because to be honest, I keep away from most pork. I used to be the lone duck-lawar eater in the family, but my brother-in-law consumed so much spit-roasted pig in the Philippines last month that he returned home with gout and he's off red meat for a while. And then there's my mother-in-law, who underwent a mewinten ceremony a few years ago that involved a vow to abstain from all meat. It wouldn't surprise me if ours was the only household on the island that makes duck and vegetarian versions too.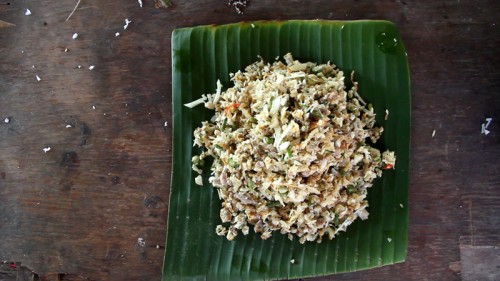 It happens that my husband and I have to do double duty on Penampahan because it falls on the day the spirit in our guardian shrine (that's the one in the northwest corner of our garden) has permanently scheduled the honoring of its tireless service to our safety. Like the ancestors that are visiting today, the major domo guardian spirit resides in our cardinal family compound in Denpasar, the island's capital, so our house is like a branch office. I don't mind. I like knowing this guard is here too. The shrine is right off our bedroom and it makes me feel safe at night.
There's another spirit that hangs around in the southwest corner. I can't see her, but my friend René from Hong Kong did and said she's very short, old, and kinda spooky. She's here by independent choice, and has our best interests at heart, but she got cranky a few years ago and scared off our daughter's male friends who were hanging around in her room until what the ancient one must have considered too late in the evening. She demanded a lot more from the animal kingdom than just fried chicken to quiet down after that, but we obliged her, and she's been almost silent ever since.