Happiness is Someone to Make a Tart For
January 19, 2011
I suck at baking, especially in Bali. You might be too if you lived here. Flour and sugar just don't behave in the tropics the way cookbooks assume they will. Or maybe it's me, my aversion to rules, and my tendency to tinker with recipes because I think I'm smarter than the author, who's clearly competent enough to have gotten published on the subject, but whom I still think I can outdo.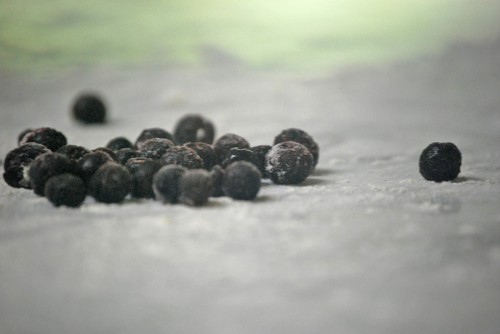 Even so, then there's baking's tiny margin for error, regardless of where you are. Once whatever-it-is is in the oven, forget it. It's too late to renege on a bad decision to reduce the sugar, or to fold in the melted butter you just noticed you left on the counter, the way I recently did when making one of Julia Child's Cinq Gateaux. The cake was light, but boy was is dry.
There's one pastry that hasn't gotten the best of me, however: galettes. These are free-form tarts with a flaky, buttery crust snuggling a mound of fruit so generous it justifies eating them for breakfast. And wait there's more. Their beauty lies in their imperfect surface and rustic edges so having clumsy hands like mine is almost an asset.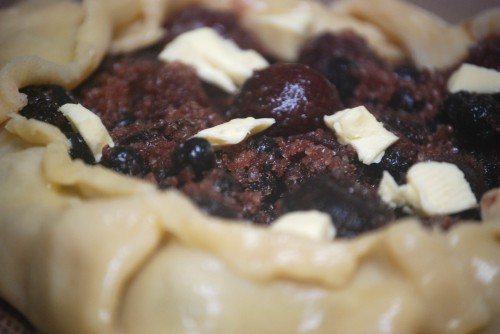 I happen to have a long history with pate brisée, the dough for these tarts. When I was an eleven-year-old with a weird home life, we rented a weekend house in Pine Plains, New York with a tangled apple tree that canopied the kitchen. I never bothered to find out what variety it was, but the fruits were the size of softballs and too tart to munch on, so one autumn afternoon, with time alone and my mother's dog-eared copy of the James Beard Cookbook at my disposal, I made an apple pie. I was virtuous in following the maestro's directions for the pastry, and took the time to peel, core, and neatly layer slices of the fourteen apples (hey, he didn't make it clear to use fewer if they were huge) with cinnamon, nutmeg, brown and white sugar, and butter.
My first pie emerged from the oven—well—flawless, the flaky pastry ascending four inches above the rim of the pie plate, yet still clinging to the stack of apples underneath that, thanks to my compulsive layering, had barely shrunk down.  It was devilishly delicious too, redolent of butter, spice, and a sparkling zest you only get from apples that just came off a tree.
The cast of characters that came and went through that farmhouse—"freaks" they called themselves, with counter-culture values and permanent cases of the munchies—goaded me on to cook more and I obliged them, baking more pies, then cookies, then savory pies and Seventies-style casseroles. I cooked so much that year I handwrote and illustrated a cook book, a body of work I recently dug up at my mother's apartment that, despite an over-reliance on Ragu Brown Sauce, isn't half bad considering a pre-pubescent authored it.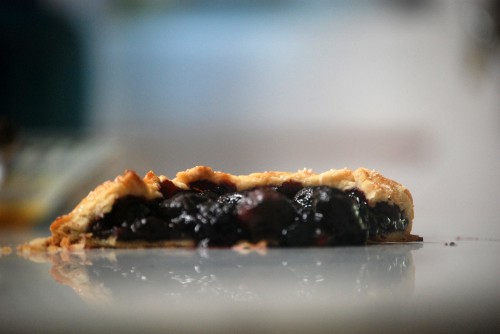 So by twelve I was honing a skill my mother had seeded in me since I could hold a measuring cup, but here's what I think I really got a taste of: approval. Maybe that's why I cook. Maybe that's why a lot of people cook.
Adapted from the files of Nick Malgieri's Baking Class at the Institute of Culinary Education in New York City
Here's the trick to making Pate Brisée in the tropics. First prepare to take care of yourself. On an average day, I'm cooking in a tank top and the mercury is in the high eighties (about 32 degrees celcius). I stash rolled up wet washcloths in my freezer, like a fancy hotel gives you when you check in, and wrap them around my face when I can't stand the heat any more.
Now, about the ingredients: They need to be cold, and I don't have air-conditioning in my kitchen in Bali, so I mix the flour and salt in a wide metal bowl and pop it in the freezer. I prefer French butter because it has lower water content and your flour is probably holding some residual dampness from the humidity in the air. We're after flakiness, so think of moisture as the enemy. Cut up the butter, and then put it back in the refrigerator, not the freezer, to chill. Flour is dry, and doesn't hold its temperature, so when you are ready to work, get moving. Ready?
For the Pate Brisée:
310 grams (2 1/2 cups) all-purpose flour, very cold
½ teaspoon kosher salt
230 grams (about 8 ounces/2 sticks) cold, but not super-hard unsalted butter, cut into ½-inch (1cm) cubes.
Ice water, about 4 tablespoons or a little more
For the filling, if you are making one small tart:
Fruit, about 1 1/3 cups
Light brown and white sugar, about 1/4 cup combined, or more to taste
Ground cinnamon, a few shakes
Ground allspice, a few shakes
Salt, a pinch
Flour, about 2 teaspoons
Unsalted butter, cut into about 8 tiny cubes
Egg, beaten, for an eggwash on the pastry.
TO MAKE THE PASTRY, let's assume the power has just cut out and you can't use your food processor. This happens more than you would imagine. Toss the butter cubes into the flour and rub with your fingertips as fast as possible until the butter is almost blended in. I say almost because I like to leave some tiny chunks in there that help make my crust flaky. Sprinkle ice-cold water into the bowl as you mix the flour around with your free hand. When you feel that the dough can hold together in a ball, stop adding water. You will probably have added about 4 tablespoons. Hopefully as you form the mixture into a solid dough you will see streaks of butter, since you didn't overmix, right? If not, don't worry.
I like to make small galettes that feed two or three people with a really generous crust to fruit ratio. If that's what you want, then divide the dough in three.  If you want to make two medium tarts, you can do that too. That's what I did last week when I had six guests for dinner. They ooohed and aaahed—and one of them was French.
Flatten the dough into a fat disk, place in a covered container, and let it sit in the refrigerator for an hour to set. Yes, you can roll it out now if you must. It'll taste the same but the dough won't bind as well and you will probably have to do some unsightly patch jobs.
Okay, get your oven to 400˚ F (205˚ C), and line a baking tray with either parchment or a silicone mat.
TO MAKE THE TART, let's assume you have divided the dough into three and want to make one small tart for you and a friend. The measurements above will be about right.
But let's say you hate measuring, like me. You need about three handfuls of fruit (two handfuls if you are a big burly guy, in which case how cool that you are reading my blog and making tart), let's say a mix of frozen, pitted dark cherries and frozen wild blueberries. Put them in a bowl with enough brown and white sugar (half/half is fine) that when you pick up the fruit there's still sugar in the bottom of the bowl. Sprinkle in some ground cinnamon and allspice and a little salt. Put the fruit mixture back in the freezer while you roll your dough.
Roll our your dough on a cool, floured surface. I have a marble table that manages to always be cooler than the air, and that's what I roll on, flipping the dough over a few times so it doesn't stick. The dough should be about 1/8" inch (2 mm) thick. Run a knife along the perimeter to give the tart a neater finish.
Place the rolled dough onto your lined baking tray, mix a small spoonful of flour into the fruit mixture (this will thicken the juices while they cook), and then pile it into the center of the dough, leaving about 1½ inches (4 cm) of the dough empty around the edges. Fold up the exposed dough over the outer edge of the fruit into a pentagon (or a hexagon), leaving a lot of the fruit exposed. Scatter about eight tiny cubes of butter over the fruit.
Now, here's a fancy little optional secret that I learned at the Institute of Culinary Education. Fold back the lip of the dough in the center so it stands high, and put the tart… no, not so fast… not in the oven. Put it in the freezer until the dough hardens. A half hour or so later, give the pastry a quick egg wash, sprinkle with some sugar, and put it in your pre-heated over. The dough will be cold enough to hold its shape while it bakes into a solid pastry.
When is it done? The pastry will be golden brown. The fruit will be bubbling. You'll be in the mood for tart. I'd say about 25 minutes, depending on your oven. Allow to cool before eating.
A CAVEAT ABOUT APPLES – you won't get a raw apple to cook in 25 minutes, so leave your oven on 400˚ F (205˚ C) for ten minutes to form the dough, then reduce the heat to 350˚ F (180˚ C) and bake for up to one hour in total. I also like to omit the spices and the brown sugar, replacing the latter with white sugar.
ON A PERSONAL NOTE – Cody Kittle, this is for you.