Hot Eggplants and Clean Teeth
March 27, 2011
In the dark shadow of the tsunami, and the Fukushima reactors, and Tripoli, it just felt too trivial last week to post about food and cooking and eating. But funny enough I'm now reminded of Homer and his hero Odysseus, who after his forays into battle against colossal forces and mythic beasts, always retired with his army to base camp for a feast (one quite lavishly described by the poet, if I remember correctly) that served to remind us that food, and our mortal hunger, are at the core of the human experience. Food brings and holds us together, and brings us down to earth.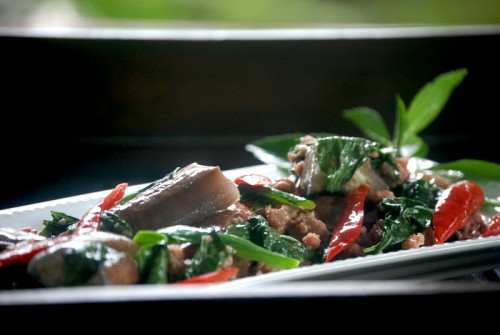 And it brings pleasure, which must be why it felt glib to write about last week. But for all the wrath of Mother Earth, and the errors and atrocities of humans, maybe it's a better time than ever to reflect on what we do have, big and small.
Here's one very small thing I'm grateful for: toothpaste and toothbrushes.
Here's a big thing we're all grateful for: friendship and family, though admit it, neither would be as fulfilling if our teeth felt fuzzy.
And I'm grateful for our farmland in Bali and those who work it, and the fact that I live in a society where the cycle of birth and death is so accepted and so integral to everyday life that striking a land deal at a funeral of a distant relative isn't frowned upon. That's exactly what happened eight years ago, after the death of my mother-in-law's centenarian cousin, Dadong Taro, when my husband, Gusky, came home to say he'd been offered fertile land on the edge of a gorge.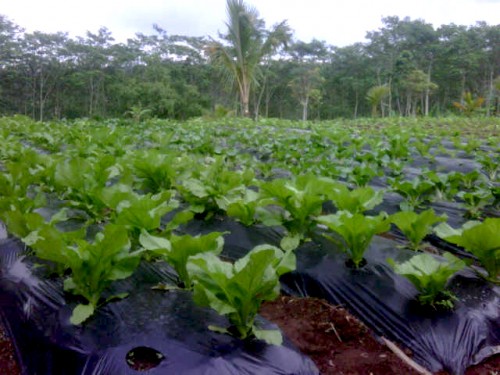 I'm also grateful for Gusky, and how much he makes me laugh, and his penchant for bulk-buying, which sometimes drives me nuts because we can't possibly need a dozen combs at a time, but which put him on a mission to cobble together an expanse of farmland from that original plot that now measures in the hectares and that in these past few weeks—yes these otherwise pretty awful two weeks if you only look at the headlines—yielded its first harvest of edible greens. There's also cocoa, and vanilla, and lemongrass, and purslane, and galangal, and turmeric, and four kinds of eggplant, and three kinds of basil. The list is long, and like the farm it's growing.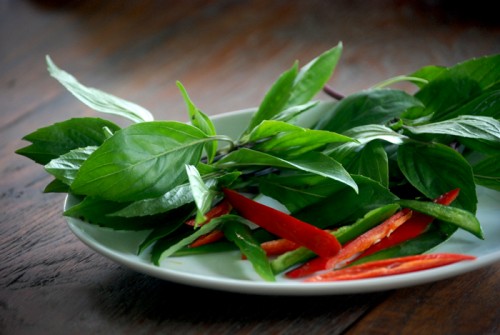 And what did we do to deserve this harvest? Honestly, not a whole lot. I bought seeds online with the previously unfathomable simplicity of the click of a laptop's keypad, my son hand-carried the seeds here via the miracle of jet travel, we tilled the already-rich volcanic soil, it rained, we weeded, and we waited. And now we harvest and exercise the curious talent we humans have for that phenomenon called cuisine. And we come together as friends and family and share in this glorious gift of sustenance. If that's not something to be grateful for and amazed by and downright gleeful about, tell me what is?
HERE'S WHAT YOU NEED (for 2 to 3 servings, which is about all you should attempt in a small wok on a home stove. If you need to feed a crowd, it's better to make this in batches):
2 small Asian eggplants, about 250 g (8 oz) total after trimming ends
1 1/2 tablespoons grapeseed oil, or other neutral oil
2 teaspoons minced garlic
2 hot chilies, finely chopped
60 g (2 oz) ground pork, or chicken
2 teaspoons oyster sauce
1 teaspoon fish sauce
1 teaspoon sugar
1 large red or green chili, coarsely sliced
Chicken stock, or water
1 small handful fresh Thai basil leaves
HERE'S WHAT TO DO:
Discard stem and bottom end of eggplants. Slice each eggplant lengthwise, then cut each length into thirds, about 5-7 cm (2 1/2-inch) lengths. Blanch in boiling water, or deep fry in oil, until soft at the center, about 4 minutes depending on the diameter of the eggplant. Set aside.
Heat oil over low heat in a wok, add the garlic and hot chili and cook until just aromatic. Do not brown. Stir in the minced pork, raise the flame to very high heat, and cook until you get a good sear on the meat, about 1 to 2 minutes.
Stir in the oyster sauce, fish sauce, and sugar until evenly blended, then add the chili slices and a little chicken stock. Test for seasoning and adjust accordingly.
Toss in the blanched eggplant and basil and stir to coat with the seasonings. Serve with steamed jasmine rice.
This dish is on the menu at Siam Sally. For a vegan version, you can substitute crumbled tofu for the meat, light soy sauce for the fish sauce, and vegetarian oyster sauce in place of the original oyster sauce.