Noodles in Cambodia
December 22, 2012
I didn't know what to expect when my husband and I recently booked a last-minute trip to Angkor Wat.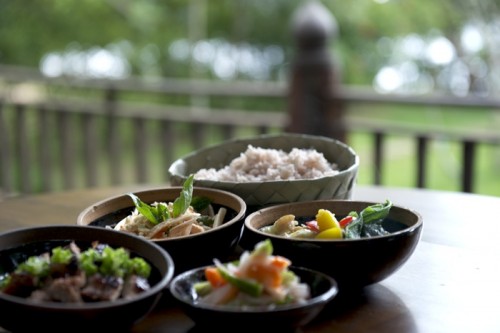 I'd done zero research on the place. I can't even explain to you why I was suddenly so keen to go, given reports I'd gleaned over the years about the intense heat that blazes across the Cambodian plain, and my general aversion to sweating. The cuisine, my stock-and-trade excuse for going just about anywhere, wasn't the draw either, though it did end up luring me into a kitchen because I seriously cannot help myself.
Oh, I remember. Prior to concluding her post as general manager at Bali's Amandari Hotel two years before, our good pal, Sally Baughen, had extended an open invitation to visit her at her new digs at the toney Amansara Hotel in Siem Reap, where she was about to take the reins, and it occurred to me that her tenure there might be nearing its conclusion.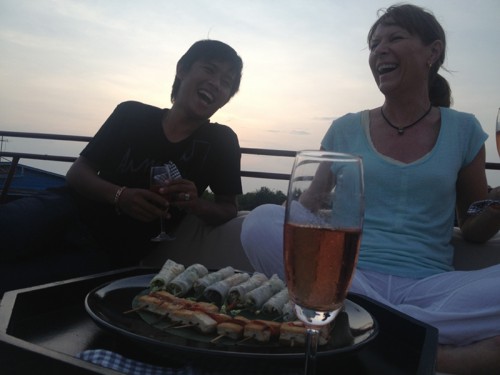 A word to the lucky and wise: if you have friends in fabulous destinations and they invite you to visit, do what you can to take them up on the offer, especially if one of these friends happens to be the walking embodiment of hospitality.
Our hastily devised plan gave Sally all of six hours' notice that our flight from Bangkok would be arriving shortly after six pm. Nevertheless, within an hour, before we'd even gotten in the cab and out to the cavernous Suvarnabhumi Airport, my iPhone was beeping with Sally's insistence that we stay with her. A few minutes later the phone chirped again: here were our options for dinner, and a few minutes later again it presented possible itineraries for our three days in the once war-torn kingdom. And—as if all that wasn't enough—Sally instructed us to relinquish our passports to her airport representative who would be holding a placard with our names, lest our travel-weary limbs suffer further taxation from standing in line at Cambodian immigration.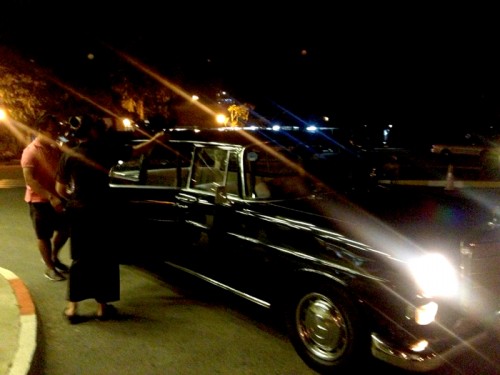 I don't mean to gloat (well, I kind of do), but the Amansara's black 1966 Mercedes stretch limo waiting right outside the arrivals area—something Prince Sihanouk, who passed away that same week, would have looked right at home in—was a giant maraschino cherry on top. We rolled away from the airport (think Southeast Asian art rooms at The Metropolitan Museum, not a stale terminal at New York's La Guardia) with the windows down, feeling pretty whipped creamy as we rode along the cricket-squeaking flatlands that, kind of unbelievably, were once killing fields.
Regardless of Cambodia's beauty and the graciousness of its people, it doesn't take long into a visit there, I learned, to catch wind of it—the death and loss, the missing, the terror, the broken family links, the lasting injuries—the whole horrific national nightmare that will require generations to recede. The members of Sally's house staff all had their stories, as Sally revealed to us that first night while we dined in the sultry inland heat on a small terrace of the hundred-year-old carved pavilion she calls home, devouring take-out of delicious saag paneer and dhal from an Indian place down the road.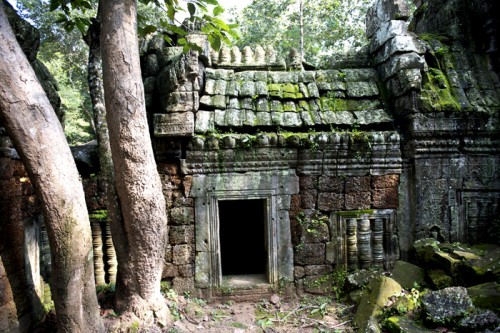 Even with our good-natured guide, Kimcheng, who collected us at dawn the following morning for a pre-searing-heat temple tour, the melancholy lay just beneath his refined and gentle surface. He appeared an unusually deep thinker, the product of an erudite family, and while my husband explored the temple with his newfound passion for photography, Kimcheng shared with me how his father's penchant for recreational gardening had produced callouses thick enough to render believable his claims of being uneducated (his father was actually a school teacher), which ultimately spared his life, though tragically not the lives of so many others in the family.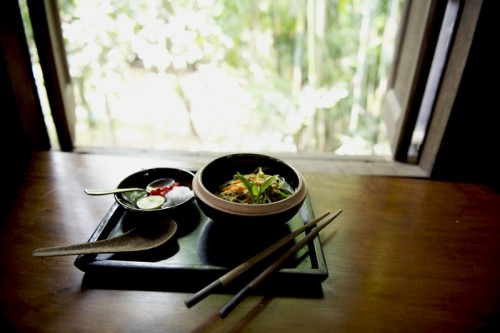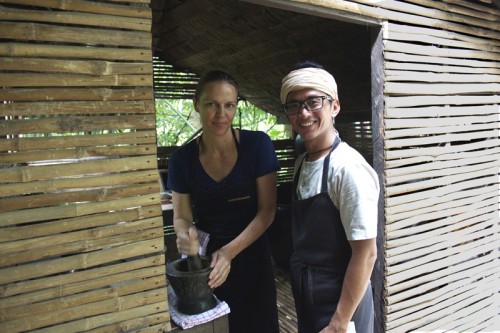 Two days later, when I found myself, at Sally's behest, enjoying a private cooking class run by Amansara (ridiculously elegant, by the way, in its understated, rustic charm), I couldn't bring myself to ask Phalla, my soft-spoken  instructor, about his family. Instead we chopped, and ground, and sautéed, and simmered a time-worn recipe, one of many—and this was a quiet slip—from the past that was part of the lost history I could see he took both pride and pleasure in preserving.
Speaking of lost recipes, I managed to misplace the notes I made on the recipe for noodles with a green curry-ish sauce, but I remember the gist.
HERE'S WHAT YOU NEED:
For the curry sauce:
¼ cup chopped lemongrass stalks, tender green top portion only
1 tablespoon chopped lemongrass, lower portion, tough outer leaves removed
1 piece fresh ginger, peeled, about the size of half your thumb
1 small piece fresh turmeric, peeled, about the size of one section of your index finger
2 cloves garlic
1 small hot green chili, seeds and stem removed, or more to taste
4 ounces /100 grams steamed freshwater fish, deboned
1 tablespoon vegetable oil
1/2 cup vegetable stock, or fish stock
¼ cup thick, fresh coconut milk
Salt and pepper to taste
For the finished noodle dish, 4 portions:
Fresh rice vermicelli, cooked
Carrot, julienned
Cabbage, finely shredded
Cucumber, julienned
Scallions
HERE'S WHAT TO DO:
For the curry:
In a stone mortar, grind the lemongrass, ginger, turmeric, garlic, and green chili until it forms a smooth paste. Add the steamed fish, and grind it in. Heat the oil in a heavy-gauge saucepan, add the paste and cook and stir over medium heat until fragrant, about 15 minutes. Add the stock in batches, and reduce until the broth is thickened. Stir in the coconut milk until it simmers, season with salt and pepper, then remove from heat.
For the finished curry:
Divide the noodles and vegetables among 4 bowls. Spoon the curry sauce on top. Serve with sliced hot chili, salt, and lime.