Looking for Laundry with Llamas
September 24, 2011
I want to let you in on a little secret. I've figured out I belong to a tribe. Actually, I probably belong to a few tribes, but let me tell you about one in particular, and then I'll tell you about the beets I harvested and cooked during our recent reunion.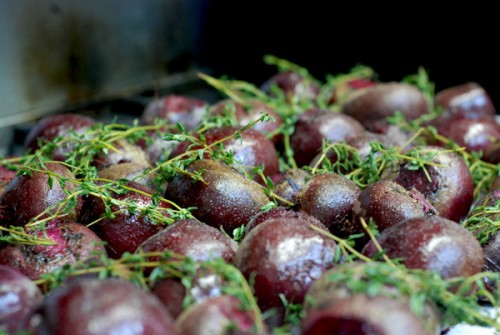 It started in Ohio, at Oberlin College, where a young woman named Helen Lacey met a young man named Doug Haskell. It was the early 1920s, and if you were the kind of individual who reviled injustice (the campus had a proud history with the Underground Railroad) and revered perfection (one of its guiding principles), then you were right at home at Oberlin College.
Upon graduation, Helen, a teacher, and Doug, an eventual architecture critic and designer, married. Deeply influenced by the teachings of the progressive educator and philosopher John Dewey, the couple became the directors of Camp Treetops, a multi-racial, non-denominational summer farm camp bordering the wilderness of New York's Adirondack mountains. It was a post that stretched to forty years. To this day, Camp Treetops remains an expression of the couple's educational and aesthetic sensibilities, and their core belief that a child's individual development is best served when his or her spontaneity and creative impulses are honored.
By the time my grandparents met the Haskells (both couples were doing their part at the legal arm of the NAACP, colloquially known as the Ink Fund, to end racial segregation in the South) and learned of the camp, my father was too old to attend, but luckily for my uncle, he wasn't, and as an adult he held fond enough memories of his summers there that when his son was nine, he sent him too. That's more or less how my sister and I wound up at Treetops, although my mother would probably like me to make it clear that she had to badger my dad to make that happen.
The camp program proudly offered nothing in the way of entertainment, if by that term you mean TV, radio, competitive sports, and gasoline-powered anything (and now cell phones, computers, and MP3 players). Helen was right that without them we'd go outdoors and learn to generate our own fun. Of course the camp offered amusing, standard camp-y activities: swimming and riding, canoeing, cookouts, and making bad pottery that our parents reluctantly displayed at home. But for me, what distinguished a Treetops summer from the summer-camp tales of my school friends was the zeal for invention and whimsy that we introduced to so much of what we did.
As long as we had to make signs for the vast garden, why not decorate them? As long as food had to be hidden from bears, why not create a treasure hunt—composed in verse? Heavy rain called for mud walks. Sunset Appreciation, a very serious course, was conducted in the potato field, where we absorbed the majesty of lingering light silhouetting the pine forest, while writing songs about, why not strawberries?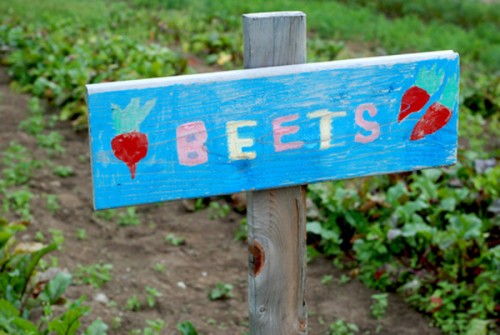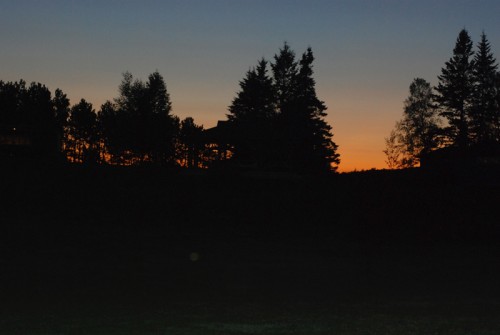 Even at chores, of which we had many, and through which we understood how our individual contribution had value, we manufactured fun: manicuring the manure pile in hopes of winning a ribbon, or lending heavy logs ridiculous names as we passed them down the line to be loaded into the maple sugar house. My own children, who collectively spent eleven summers at Treetops, didn't mind scouring the campus for lost laundry, once they learned they could do it with the camp's two llamas in tow.
The "real" world, to which we returned after these seven weeks of simplicity and serendipity, felt contrived and hollow by comparison. Clocks and watches robbed us of the natural rhythms with which we'd become synchronized. Candy, forbidden at camp, tasted exotic the first few days back, but for me, its artificiality soon surfaced, and made me yearn for Mildred, the elderly biologist and counselor, who, long before Alice Waters opened Chez Panisse, led us into the woods and pastures to forage for wild edibles, and involved us in their preparation for the annual Wild Foods Banquet.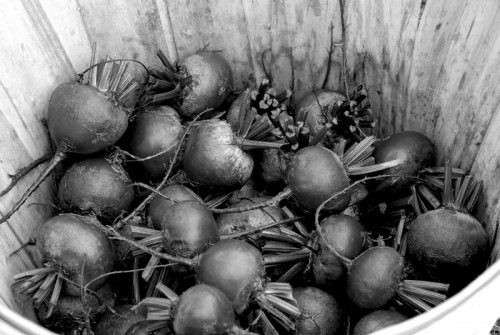 So every August, like a scattered tribe, those of us lucky enough to share an affiliation with camp gather for a long weekend of reconnecting—to the place, to one another, and to ourselves. Last month, I chose to spend one morning restoring my soul in the garden, picking and scrubbing cabbages, lettuces, and beets, and later roasting and glazing those beets for the tribe.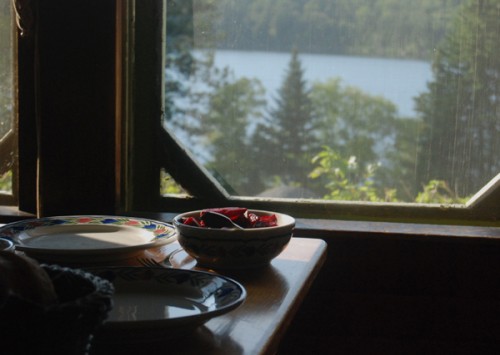 The rest of us? Some were hiking, or kayaking, or playing guitar at the top of the hill. Some volunteered to hammer nails into one of the campus' new structures, or load several tons of hay into the barn. Another group, seeing a solution for a counselor with a busted knee, devoted hours to pimping a garden cart into a chariot, complete with canopy, trident, and reins for the tribesmen who would pull him across the grass.
Why a chariot?
Why not?
HERE'S WHAT YOU NEED (for 6 to 8 beet lovers):
To roast the beets:
2 pounds (900 g) unpeeled medium sized beets, stems removed before weighing
1 tablespoon olive oil
1/2 teaspoon salt
Freshly ground pepper
Fresh thyme sprigs
To glaze the beets:
2 teaspoons unsalted butter, or olive oil, or a mixture of the two
1 teaspoon minced garlic
1/2 teaspoon finely grated organic fresh ginger, or 1 teaspoon if using conventional fresh ginger
1/4 cup (60 ml) Balsamic vinegar
1 1/2 tablespoons wildflower honey, or more to taste
Juice and finely grated zest of 1 small lemon
Salt and freshly ground pepper
HERE'S WHAT TO DO:
To roast the beets:
On a baking tray line with parchment paper, rub the beets with olive oil, salt and pepper, and a generous amount of thyme sprigs. Cover with aluminum foil and roast for up to one hour.
To glaze the beets:
Melt the butter over medium heat in a large, heavy-gauge skillet. Add the garlic and ginger and cook and stir until fragrant, but not browned. Slowly add the Balsamic vinegar all along the surface of the pan so it begins to evaporate, stirring to encourage caramelization. When the vinegar has evaporated into a thin syrup, stir in the beets, honey, and the lemon juice and zest. Lower heat and allow to simmer for about five minutes, adding a little water if the glaze appears too dry. Season with salt and pepper and serve.